2018 – Updates.
This page has the latest artwork templates, channel art outlines, image size and file guidelines and it is separated by computer, android device and iphone/ipad. 😉
https://support.google.com/youtube/answer/2972003?co=GENIE.Platform%3DDesktop&hl=en
Updating your channel has gotten even easier. Check out the boilerplate courtesy of YouTube.
Give your channel a custom look and feel by selecting channel art. Channel art can be used to brand your channel's identity and give your channel page a unique look and feel. Your channel art will be used on all platforms where viewers can see your channel (TV, mobile, tablets, etc.)
Here's how to edit Channel art:
Sign in to YouTube and visit your channel by clicking on your channel's link in your Guide.
Click Add channel art near the top of your channel

Note: If your channel already has channel art you can edit the channel art by hovering your mouse in the top right corner of the channel art until you see the edit icon  and clicking Edit channel art.

Upload an image of your own, or use our photo gallery.
Once you've selected an image, you can preview how it will appear across devices. To adjust, click Adjust the Crop.
Channel art guidelines
For optimal results on all devices we recommend uploading a single 2560 X 1440 px image that has been optimized to fit the template below: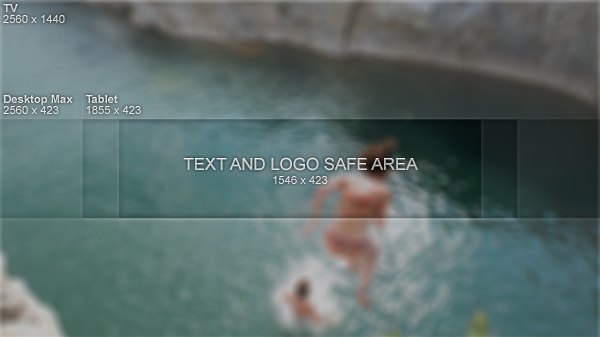 You can download the template here: Channel Art Template (Fireworks)
Channel Art Template (Photoshop)
Note: All of the pixel dimensions have more than doubled from what you would measure on normal monitors. This is to accommodate retina displays. On non-retina displays the image will be scaled to less than half the size with the same aspect ratios.
How channel art looks on different devices